How to make a safe email address
Edit
Bisbee - Bisbee BoulesEdit
We usually play after the Bisbee Farmer's Market, which happens on Saturday mornings (map)
We usually play at 2pm in Goar park on Saturday afternoons (weather permitting) (map)
For more information, or to confirm that we will be playing, call or text: Paul Ziegler @ 520-678-1776
Jerome - Ghouls with BoulesEdit
This is the oldest petanque club in Arizona. Players come from Jerome, Sedona, Flagstaff, Clarkdale, Prescott, and all over the Verde Valley. The group is active, and they play in several locations.
Play begins on Sundays at 2 pm and often goes until dark.
Call or email in advance for specifics about the time and location.
145 North Drive, Jerome, AZ 86331 (map)
For more information, phone

    Bill Volk       - 928-634-3710
    Ron Richie      – 928 274-1970
    Richard Johnson – 857 636-2606
    Gary Felix      – 928 202-6230
Jerome sits on the side of a mountain. When the club began, the flattest part of town was the parking lot near the old cemetery, so that's where they played. Hence Ghouls with Boules. The 360 degree scenic view of the mountains, forest, and town are fantastic.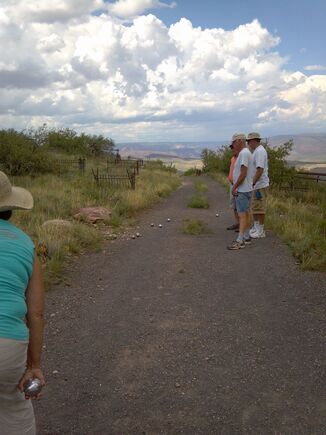 Phoenix - Phoenix PetanqueEdit
Email phoenix.petanque@gmail.com
As of August 2019, Phoenix Petanque is playing on Saturday mornings
Roadrunner Park, 3502 E Cactus Rd, Phoenix, AZ 85032 (map)
Tucson - Tucson Petanque ClubEdit
Email: tucson.petanque@gmail.com
The Tucson Petanque Club is an informal group of Tucson residents and winter visitors.
We play on Sundays (and sometimes other days) from mid-October through the end of April.
See our web site for detailed information about us & directions.
Tucson - Tucson Saguaro Petanque ClubEdit
The club was founded in 2012 by Denis Moriniere.
The club is now inactive, but if you give Denis a call, he's usually up for a game. Telephone (520) 901-0484.
Tucson - South Forty Petanque LeagueEdit
Try reaching the organizer, Gilles, via https://southfortyrvranch.com/contact/
We are a group of retired people living in the South Forty RV Park, 3600 W Orange Grove Rd, Tucson, AZ (map)
Our players are winter visitors. We organize teams early in January and play from January 15 to March 15, Wednesday and Friday at 10am.
Our courts are shuffleboard courts that we converted to petanque. We have been playing league petanque at the South Forty RV Ranch since about 2008.
Tucson - Park West Players (private) Edit
Open to residents of Park West Mobile Estates, a retirement community. Not open to the public.
Located at 3003 West Broadway Blvd, Tucson, AZ. (map)
The playing area is a hard red clay bocce court that has been divided into two short petanque terrains.
Prescott - Granite Creek Park (terrain)Edit
A group used to play on the trails at Granite Creek Park (map)
Willcox - Willcox players (dead)Edit
A group briefly played with June & Marvin Brown, at Brown's Orchard, 5774 Atwood Road, Willcox, AZ 85643. We've lost contact with them and the Brown's Orchard web site is gone.
Yuma - Sunridge RV Park PlayersEdit
Sunridge RV Park web site is http://www.yumarvparks.com/sun-ridge-rv-park
Location is 10347 E 34th St, Yuma, AZ 85365 (map)
We have a group of about 20 players, men and women.
We play daily (Monday thru Friday) at 9 am from October to April.
When the weather is warm, we also often play in the evening "under the lights".
Community content is available under
CC-BY-SA
unless otherwise noted.