How to make a safe email address
Edit
See our page on making a safe email address
________ NORTHERN CALIFORNIA ________
Edit
Albion - Ledford House Restaurant (terrain)Edit
Ledford House Restaurant, 3000 California Highway One, Albion CA 95410 (map) — south of Ft. Bragg.
Albion is seven miles south of the town of Mendocino on Highway One. The courts, alongside the restaurant owned by Lisa and Tony Geer, are large enough to support three games and sit atop a bluff overlooking the Pacific Ocean. Although the restaurant is open only for dinner Wednesday through Sunday, the owners welcome petanque players any time.
Willits - Willits Boules Club (dead)Edit
Willets Boules Club was renamed to Redwood Empire Boules Club in 2011.
Mendocino and Fort Bragg - Noyo Yoyos and Redwood Empire Boules ClubEdit
Formerly known as the Willits Boules Club, the Redwood Empire Boules Club formed in 2011 to unite players and develop venues, programs and events in the towns of Willits, Fort Bragg, Mendocino and Ukiah.
Mendocino County, California is about 100 miles north of San Francisco. (map)
Ft. Bragg, near Mendocino (map)
We are an FPUSA member club. See FPUSA for email and contact information.
The balls go into the sorting bag at 2PM every Thursday and Sunday.
Thursdays we play on the petanque courts at the C.V. Starr Community Center in Fort Bragg.
Sundays (except for the last Sunday of the month) we play at the Mendocino Community Center.
On the last Sunday of the month we play in Noyo Harbor. We're on the east side of North Harbor Drive after the big u-turn. We play rain or shine, we're hard to miss and parking is plentiful.
________ SAN FRANCISCO & SACRAMENTO AREA ________
Edit
Map of San Francisco area petanque clubs
Edit
Map as of September 1, 2019 (Click to enlarge)
San Francisco - La Boule D'orEdit
Founded in 1959, La Boule d'Or is the oldest petanque club on the west coast, and the second oldest in the USA.
We play at the terrain in Golden Gate Park near 36th Avenue and Fulton, opposite 38th Avenue and close to the Buffalo Paddock and the dog walking park. (map)
From Fulton, go south on 36th Avenue into the park. Make a right as soon as you can (across from Spreckels Lake) and follow the road until it dead-ends. Turn left, and you'll be at a parking lot. The pétanque courts are on your left. (The Dog Training Area is on your right.)
We generally play on Friday, Saturday and Sunday afternoons after 1:30.
We are an FPUSA member club. See FPUSA for email and contact information.
San Francisco - Bay Area Petanque Players (dead)Edit
This group appears to be dead. Its meetup.com page hasn't been updated since February 2011
Lafayette - Lamorinda Petanque ClubEdit
Our web site http://www.lamorindapetanque.com/ has directions and contact info.
We also have a blog and a Facebook page
We're located in Lafayette, CA — east of San Francisco, near Berkeley (map)
We play in the Lafayette Community Park, 480 St. Marys Road, Lafayette, CA 94549 (map)
We play on Sundays, Tuesdays and Thursdays at 2 pm.
We are an FPUSA member club. See FPUSA for email and contact information.
Menlo Park - La Boule JoyeuseEdit
Menlo Park is in the Bay area, near Palo Alto. Map
We play in Flood Park, Menlo Park, on Wednesdays and Saturdays at 12:30 PM.
Our club was founded in the 1970's and has around 30 members. Visitors are always welcome.
Petaluma - Petaluma Petanque ClubEdit
Petaluma is about 40 miles north of San Francisco (map), and about 30 miles west of Sonoma, the home of the Valley of the Moon Petanque Club.
The club was established in 2009. See this article about the club.
We play at Oak Hill Park, Petaluma, CA 94952 (map) on Howard Street, between West Street and Bodega Avenue.
People play most Saturdays — mornings in the summer and fall months — afternoons in winter/spring.
We have sets of guest boules so you can try out the game.
Napa - Napa Petanque ClubEdit
Sacramento - Club Francais de SacramentoEdit
Sacramento is located in California's Central Valley, north of San Francisco.
Our club is a gathering of Francophones and Francophiles in the Sacramento area. It is the result of the fusion of two previous clubs: The "Causeries Françaises", a local cultural group more than 50 years old, and " La Boule Gauloise", founded over 30 years ago and focused on French sports, particularly the game of Pétanque. We meet for Pétanque at the Mather Sports Center at 1:00pm (10:00am June - Sept) every Thursday and Sunday, weather permitting.
Please contact any of our club's officers for more information on upcoming events, or how you can learn to play Pétanque just for fun.
We are an FPUSA member club. See FPUSA for email and contact information.
San Rafael - La Pétanque MarinièreEdit
https://www.lapetanquemariniere.org (new website as of March 16, 2017)
http://petanque-marin.blogspot.com (blog site)
https://www.facebook.com/LPM.SanRafael (the Facebook page)
email petanque.marin@gmail.com
San Rafael is located in Marin County (Marinière... Marin County) north of San Francisco. MAP. The Pierre Joske Courts are located on Civic Center Drive in San Rafael.
Casual games are played every Thursday, Saturday and Sunday from about 1 pm. Tournament play is usually held on the second Sunday of every month.
We welcome people of all abilities, ages and nationalities to come and enjoy pétanque with us.
La Pétanque Marinière has been an active club since 1972, and affiliated with the FPUSA since 1975. See FPUSA for email and contact information.
Santa Rosa - Sunrise PetanqueEdit
Contact — David Long, 2425 Sunrise Place, Santa Rosa CA 95404
Phone 707-526-3661 — email SkiBowlBike@SBCglobal.net
Santa Rosa is north of San Francisco (map)
As of November 2013, David Long reports "We play a seasonal schedule, roughly June 1 to September 15, that rotates among 4 individual pistes that some of our club members have constructed in their backyards. Play is Monday from 5:30 to 7:30 PM. Format varies, but is usually random draw doubles."
Saratoga - Saratoga Petanque PlayersEdit
An informal group plays at Azule Park, 12277 Goleta Avenue, Saratoga, CA 95070 (MAP) — south of San Francisco, near San Jose.
We usually play on Wednesdays and Saturdays starting at 12:30 pm.
The new terrain in Azule Park was created in May 2011, due in large part to the efforts of Devin Utter.
Sonoma - Valley of the Moon Petanque ClubEdit
One of the largest and most active petanque clubs in the USA, located in beautiful Sonoma. Newcomers and guests are always welcome.
Our courts are located in Depot Park, just one block off Sonoma's Historic Plaza.
In good weather, you'll find players on the courts daily from late afternoon until dark. Weekends, Wednesdays and Thursdays are especially popular.
We are an FPUSA member club. See FPUSA for email and contact information.
Healdsburg - Big Boules of Dry Creek Petanque League (closed group) Edit
In Healdsburg there is a group called "Big Boules of Dry Creek Petanque League". The group was started in 1999 by Jack Linkletter, son of Art Linkletter and long time Dry Creek resident. The group plays on private courts belonging to club members and is not open to the public. It plays only league play among its members and membership is by invitation only.

________ CENTRAL CALIFORNIA ________
Edit
Atascadero - Central Coast Petanque ClubEdit
Web site is http://atascaderopetanque.org/
Contact John Joyner at (805)610-8060 or webmaster@atascaderopetanque.org
The terrain is open year-round. Games are played every Sunday and Tuesday.
Atascadero is close to San Luis Obispo, between LA and San Francisco (map)
The City of Atascadero maintains a petanque terrain located just beyond the basketball courts at the Colony Park Community Center, 5599 Traffic Way, Atascadero CA. A map and detailed directions are on the web site.
Fresno - Fresno Petanque ClubEdit
Web page is http://www.fresnopetanque.com/ Organized play at 9am Sundays and Wednesdays and Tuesday's from 6pm. Every evening: pick up games from 6pm-10pm.
Facebook page is https://www.facebook.com/pages/FPC-FRESNO-PETANQUE-CLUB/160588513049
We play at Cary Park, 4750 North Fresno Street, Fresno, CA 93726 (map) — It is located behind Macy's Fashion Fair Mall, S of Shaw Avenue, on N. Fresno Street.
Fresno is in the heart of California, in the San Joaquin Valley; 3 hours from LA and 3 hours from SF. One hour to Yosemite & Kings Canyon National Parks.(map)
The Fresno Petanque Club is known for their Pancake breakfasts and warm hospitality. We enjoy hosting visiting players!
An FPUSA member club since 2007. See FPUSA for email and contact information.
Oakhurst - Oakhurst Petanque ClubEdit
Oakhurst Pétanque Club is located in the village of Oakhurst, approximately 13 miles from the south entrance into Yosemite National Park and about 50 miles north of Fresno (Map)
Nearly 3,000,000 Yosemite-bound visitors pass through Oakhurst each year. We always appreciate having visitors join in on games at our facility. We generally have open play each Saturday from 9:00 a.m. and - during Daylight Savings Time - on Wednesday evenings at 5:00.
We are an FPUSA member club. See FPUSA for email and contact information.
South Lake Tahoe - Lake Tahoe Pétanque Club (dead) Edit
________ LOS ANGELES ________
Edit
Los Angeles - Southern California PetanqueEdit
Los Angeles - Los Angeles Petanque ClubEdit
LAPC is a large, active club with a beautiful playing area located near the Cheviot Hills Recreation Center, in Rancho Park, in west Los Angeles, between Beverly Hills, Santa Monica, and Culver City. The address of the Cheviot Hills Recreation Center is 2551 Motor Ave, Los Angeles, CA 90064. From the intersection of Pico Blvd and Motor Ave, proceed southeast on Motor Avenue, take the first right into the park, and proceed to the roundabout and parking area at the end of the drive.
We generally play Monday and Thursday, 3:00pm-10:00pm, and Saturday, 10:00am-6:00pm. For up-to-date information about dates and times of play, visit the website LOCATION page
We are an FPUSA member club. See FPUSA for email and contact information.
Los Angeles - Santa Monica Petanque ClubEdit
We are an unofficial, loosely knit group of petanque lovers.
Santa Monica is a beachfront city surrounded on three sides by the city of Los Angeles.
We play in Palisades Park just south of the Senior Center — 1450 Ocean Avenue, Santa Monica, CA 90401(map)
The two courts are filled-in and repurposed shuffleboard courts.
The courts are open for drop-in use by all, during regular park hours (5 am - midnight).
In the summer you can often find players at the courts on Wednesdays and Sundays.
Parking available at meters on Ocean Avenue. There is also limited free parking at public parking structures on 2nd Ave and Broadway.
For more information about the park, visit http://www.smgov.net/parks
Claremont - Claremont PétanqueEdit
Web page http://www.claremontpetanque.org/
Claremont is approximately 35 miles east of Los Angeles on I-10, and 210
Claremont Pétanque is an activity of Claremont Human Services and is open to anyone 18-years old and up. We play on Sundays at Larkin Park (map)
Please check the website or Facebook for time and details.
________ SAN DIEGO ________
Edit
San Diego - San Diego Pétanque Club Edit
The web site helpfully lists a number of groups of Petanque players who meet for casual play on a weekly basis.
We play on the first and third Sunday of the month, at 11:00 AM.
We play at the Bud Kearns Municipal Swimming Pool, 2229 Morley Field Drive, San Diego, CA 92104 (map)
The boulodrome is immediately east of the pool, facing east on an unnamed service street. (directions)
We are an FPUSA member club. See FPUSA for email and contact information.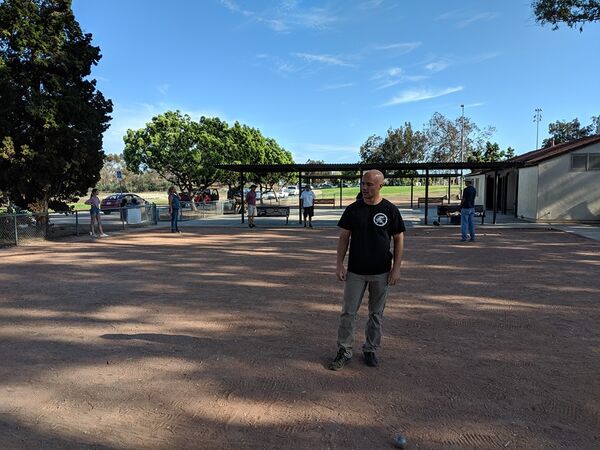 ________ SOUTHERN CALIFORNIA ________
Edit
Palm Desert - La Boule du DesertEdit
We play every Sunday from 10:00 AM to 2:00 PM
The boulodrome is in the Palm Desert Soccer Park. Enter the park from the reserve parking. Boulodrome will be on your right, nestled up against the back of the building. (map)
See the website for email and contact information.
We are an FPUSA member club. See FPUSA for email and contact information.
Palm Springs - Palm Springs Petanque American-StyleEdit
email PalmSpringsPetanque@gmail.com
See our YouTube videos.
We play traditional Provincial-style public-space petanque - no backboards, designated pistes or permanent facilities. Our main Creek-side terrain (one of our four venues) is one of the most scenic and interesting public-space petanque terrains in the United States.
Our main terrain is located on the south bank of the Tahquitz Creek loop trail at the intersection of the pedestrian bridge, S. Camino Real and S. Riverside, across the street from the charming Palm Springs Presbyterian church. (map)
During season (typically November through May) we throw on-demand. Check our calendar for scheduled throws or email us to schedule a throw.
Newbies and experienced players are welcome. We have guest boules for novice or visiting players.
Palm Springs - Parker Palm Springs HotelEdit
Community content is available under
CC-BY-SA
unless otherwise noted.