How to make a safe email address
Edit
See our page on making a safe email address
Athens - Les Boule Dawgs Edit
As of March 2017 Les Boule Dawgs is no longer active under that name. For more information, see THIS on their Facebook page: https://www.facebook.com/LeBouleDawgs
The successor is the Classic City Petanque Club (see below).
Athens - Classic City Petanque Club Edit
The Classic City Petanque Club is a group of regular players interested in bringing the game of petanque to a wider audience in Athens and Northeast Georgia.

Petanque in Athens was initiated by Les Boule Dawgs, a group of faculty and students at the University of Georgia. Though they played for several years, Les Boule Dawgs is defunct as of October 2016.
The Classic City Petanque Club plays behind Buvez, along the tracks behind 585 Barber Street Athens, GA (map)
The Classic City Petanque Club also plays at the pétanque terrain at 297 Hoyt Street at the Lay Park and Community Center near downtown Athens.
There is no cost at all to play, and we have some petanque balls for you to use. Some club members play throughout the week so a pick-up game is always possible. Beginners and all ages and skill levels are welcome!
If you are interested in playing petanque send a Facebook message to @boulesathens or email president@athenspetanque.org. We look forward to meeting you. A très bientôt sur les terrains.
For a newspaper article on the club, see THIS.
Atlanta Petanque LeagueEdit
In March 2018, Peter Gibson founded the Atlanta Petanque League with the goal of providing a support organization for petanque clubs in the greater Atlanta area.
email: atlpetanqueleague@gmail.com
phone: 770-317-1009
See our Calendar for planned practices & social.
See the Herald Newspaper Article published for our Bastille Day Social.
As of Sep 2018 there are two clubs in the league, in Roswell and Buckhead
Roswell - Roswell Pétanque ClubEdit
Play 1st and 3rd Saturdays 10am.
Location: 830 Grimes Bridge Road, Roswell. Courts on left as you enter.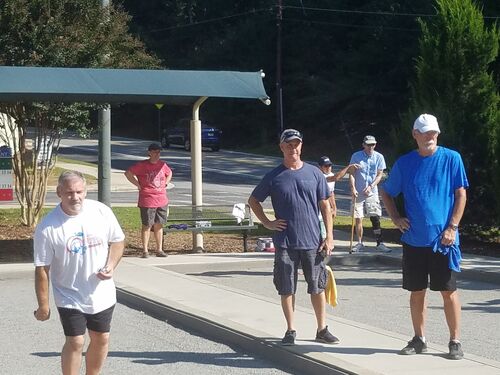 Buckhead - Hanover West Boules ClubEdit
In the Buckhead area, Jim Askren has a large court in a quiet cul-de-sac.
Play 2nd and 4th Saturdays 10am.
email Jim Askren at askrenj@bellsouth.net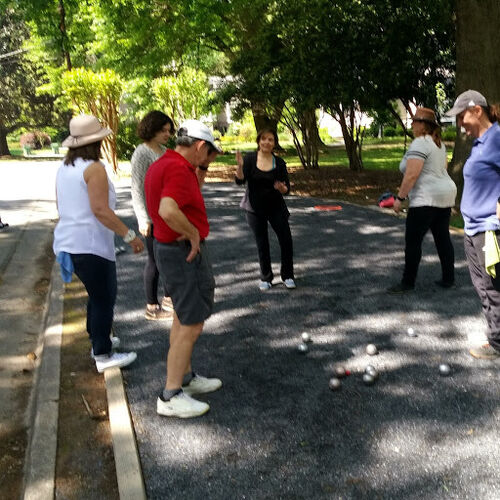 Clayton - Northeast Georgia Petanque
Edit
Located in Clayton, Georgia
Started by Honor Woodward in July 2018 as "Rabun County Petanque"; renamed "Northeast Georgia Petanque" in March 2019
Play on the upper ball field at the Rabun County Rec Department
Marietta - Cyrille Cardona and "Rabelais" dinner group
Edit
French-born Cyrille Cardona and his American-born wife Courtney have a petanque court behind their house.
Their French dinner group "Rabelais" (Alexander Monnot, Pierrck Duchassin, Nicolas Philippe) meets once a month at different members homes in the Cobb area.
Cardona recently installed a pétanque court in the backyard of his home. The Cardonas often entertain around the pétanque court. They recently hosted their French dinner group, "Rabelais," made up of Francophiles and Francophones that meet once a month at different members homes in the Cobb area. "We do (Rabelais) on a Sunday afternoon so we can play pétanque," Cardona said. -- article in the Marietta Daily Journal, November 11, 2012
Community content is available under
CC-BY-SA
unless otherwise noted.