How to make a safe email address
Edit
See our page on making a safe email address
Overview of petanque in New Mexico
Edit
The club with the highest visibility in New Mexico is La Mesa Petanque Club, and the best place to get information about petanque in New Mexico is their Facebook page. La Mesa Petanque was established in 2010 and has members located all over the state of New Mexico, primarily in the Albuquerque/Santa Fe corridor. There are a couple of groups in Albuquerque, but they seem to play on an ad hoc, pickup-game basis, rather than meet regularly. (See also the entry for Los Alamos, below.)
The two founding personalities of La Mesa Petanque are Christophe Descarpentries and Todd Haagenstad.
Descarpentries (DAY-car-pen-tree, if your French is rusty) is the owner/chef of P'tit Louis Bistro in Albuquerque. He was instrumental in the construction of the (now closed) "downtown" petanque courts in Albuquerque, in the organization of the P'tit Louis Bistro Open (at Rio Rancho, north of Albuquerque, map) in September 2013, and the first New Mexico petanque singles championship (at Old Town Farm in Albuquerque, see below) in April 2015.
Haagenstad was the driving force behind the construction of the petanque courts in Urban Park, Los Alamos, in early 2014.
Ken Thompson is an avid and skillful petanque player. He has a petanque court in front of his home in Albuquerque and is happy to have visitors over for a game. The best way to contact him is via his Facebook page.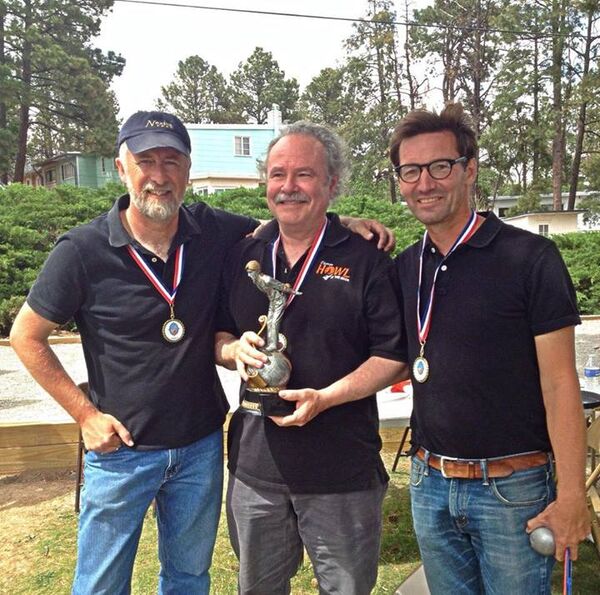 Places to play in Albuquerque
Edit
Alvarado Urban Farm (closed)Edit
The "downtown courts" at the Alvarado Urban Farm (Silver Avenue SW and 1st St. SW) were a temporary arrangement and are now closed.

Old Town Farm
Edit
Old Town Farm is an event venue and 12-acre working farm located in the heart of Albuquerque, just west of Old Town and just east of the Rio Grande, at 949 Montoya Street NW, Albuquerque, NM 87104 (map). Its covered area (boulodrome, to petanque players) can host 26 courts under one roof, with enough tables and chairs to seat 200.
Bataan Park
Edit
Bataan Memorial Park, (Lomas and Carlisle), 748 Tulane Dr., NE, Albuquerque, NM (map)
Coal and Buena Vista
Edit
The northeast corner of Coal Ave SE and Buena Vista Dr SE (Map)
Kaktus Brewing Company
Edit
471 S Hill Rd, Bernalillo, NM 87004 (north of Albuquerque) (map)
Albuquerque - Albuquerque Petanque ClubEdit
Albuquerque - Duke City PétanqueEdit
On Facebook at https://www.facebook.com/KokopelliPetanque - Contact via a Facebook message
A non-league pétanque group for players seeking friendly pickup games in the Albuquerque metro area.
We play every Sunday, 1-5 p.m., at various locations around Albuquerque. See our Facebook page, which we use to organize games on an ad hoc basis.
We often play at Bataan Memorial Park, and on the northeast corner of Coal and Buena Vista.
Los Alamos - La Mesa Petanque ClubEdit
Our Facebook site is https://www.facebook.com/groups/lamesapetanqueclub/
Some members of La Mesa Petanque play regularly in Los Alamos, Thursdays at 11:30 am.
The best point of contact for play in Los Alamos is Todd Haagenstad, via the group's Facebook page.
As of March 2014, there is a new terrain in Urban Park (map)
Santa Fe - Santa Fe PetanqueEdit
Web page is http://sfpetanque.com/
We play on Sunday mornings (starting at different times during the year, working with the season) at Railyard Park, 740 Cerrillos Rd, Santa Fe, NM 87505 (map)
For specific information about when and where we are currently playing, visit our web site (which has a page of emails and phone numbers) and give us a call. The Santa Fe telephone area code is 505.

Other venues and terrains in Santa Fe include:
Estrella del Norte Vineyard, 106 N. Shining Sun, Santa Fe, New Mexico 87506 (north of Santa Fe, between Nambe and Pojoaque) (map)
Il Vicino Brewery Canteen, 2381 Aztec Rd NE, Albuquerque, NM 87107 (map)
Capitan - Flaming Balls Petanque Club (closed)Edit
The club was led by Gregg Russel, but due to health issues, this club has been inactive since about 2011.
Community content is available under
CC-BY-SA
unless otherwise noted.