How to make a safe email address
Edit
See our page on making a safe email address
________ NEW YORK CITY METRO AREA ________
Edit
Overview of New York City petanque
Edit
According to http://www.nycgovparks.org/about/history/bowling-boules-bocce
La Boule New Yorkaise plays pétanque in Washington Square Park and Bryant Park.
Other pétanque aficionados play
at McCarren Park in Greenpoint, Brooklyn
in Carroll Park in Carroll Gardens, Brooklyn
in Central Park — in the sand at Heckscher Ballfield #3 and the cinder bridle path near Tavern on the Green
New York City - La Boule New YorkaiseEdit
LBNY is one of the oldest, largest, and most active clubs in the USA.
The LBNY web site is well-maintained and an excellent source of information.
Brooklyn - Brooklyn BouleEdit
plays in McCarren Park in North Brooklyn
This club may be dead... possibly absorbed into La Boule New Yorkaise
Brooklyn - New York Petanque ClubEdit
________ TERRAINS IN THE NEW YORK CITY AREA ________
Edit
New York City - Bryant Park terrainEdit
At Bryant Park, there are two gravel terrains near 6th Ave and 42nd St. There are free lessons every weekday, from 11:30 A.M. to 6:00 P.M., April to October. New York City tournaments are generally held at Bryant Park.
New York City - Washington Square Park terrainEdit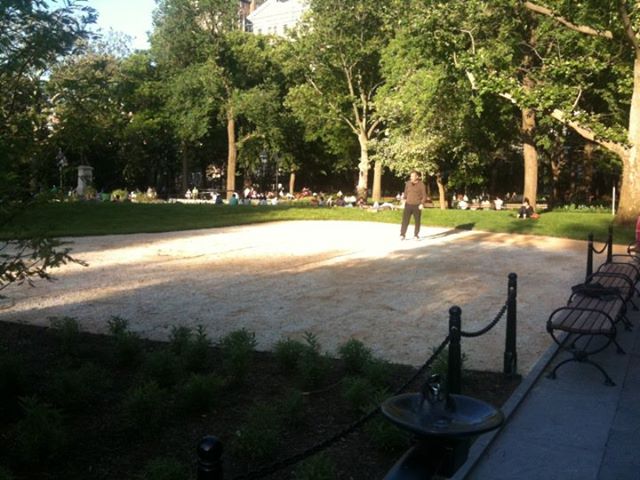 ________ OTHER CITIES IN NEW YORK STATE ________
Edit
Esperance - Boule on KillEdit
As of October 20, 2012 this club seems no longer to exist.
Telephone and email contact information no longer work.
Shelter Island - Shelter Island House - hotel terrainEdit
Nice 8-room B&B/hotel. Formerly La Maison Blanche
The 1800's house is beautifully restored and equipped with modern amenities and a pool.
On-site French bakery, complimentary bikes, and pétanque courts.
Westchester - Petanque Club of WestchesterEdit
We play at Croton Point Park, 1A Croton Point Avenue, Croton-on-Hudson, NY 10520, about 40 miles north of Manhattan (map)
We operate as a satellite club of La Boule New Yorkaise
The web page has had no new post since 2009, but a link has been added to the FPUSA's new (October 2013) promotional video, so the club must still be alive.
Larchmont- Boules Larchmontaises (closed)Edit
This club is dead.
They used to play in Flint Park in Larchmont, New York, just north of New York City and just east of Yonkers. Map
Community content is available under
CC-BY-SA
unless otherwise noted.